It's No Placebo!
I've seen some miraculous results by using Homeopathy on Horses, Cats, Dogs and other domestic and farm animals. Some of these animals were at deaths door and some in extremely poor physical health, and with severe skins traumas and or complaints.
Homeopathy has been able to save these animals from their pain and suffering and in many cases, ultimate death, by being prescribed the correct Homeopathic Remedy. Taking your pets to the vet or having the vet called out to visit your animal friends can be extremely costly! and your pets' treatments can be ongoing and very expensive!
Homeopathy is a fantastic way to treat animals from all sorts of problems…Physical, mental or emotional. From behavioral or temperamental problems, possibly caused from abusive starts in life; fears and the actions and reactions proceeding them; aggression, submission, excessive noise, jealousy, guilt, homesickness, overprotectiveness, distemper, destructiveness, dominance etc. These indications most often trigger discomfort and distress and lead to disease such as incontinence, various skin conditions, chewing/scratching, stomach upsets/vomiting, trembling, and many more serious diseases.
Correcting these problems can prevent surgery and other medical procedures for your pets. I've found relief many times having prescribing the correct remedy for my pets (and my pocket) many times over. I am so grateful to be able to ease their suffering so easily using Homeopathy! Below are a few examples:
An Emaciated Horse On It's Death Bed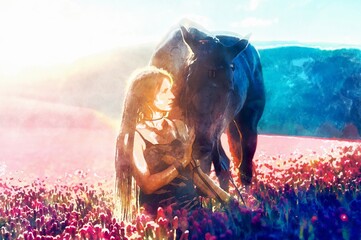 A young girl who bought her horse to graze in our paddock didn't tell me how sick her horse was until I started to question her about it days later. She was broke and couldn't afford the very costly vet fees. Her horse was very ill! It stood with its head hung low and was off all its food. It had copious mucous running from both nostrils and a severe, constant dry cough. The horse was very much underweight and had been sick for quite some time.
I was very concerned for this horse and I had never treated a horse before. As animals can't answer your questions you have to rely on applying the Principles of Homeopathy to get results. Finding a remedy that suited this horses' symptoms and giving 6 doses spread over two days, this horse was literally jumping around the paddock again! Back on its food, the cough had gone. All the mucous had totally cleared up.
What a thrill to see!
A Case Of Cat Asthma was actually an allergy to wool.
My very first experience in treating animals using Homeopathy was with my beautiful cat Raisin. She developed a severe allergy which presented as a persistent cough similar to when cats cough up fur balls, only Raisin never coughed anything up and her cough was very destressing for her.
I took her to the vet and they kept her overnight. The next day the vet told me that Raisin had Cat Asthma and I needed to give her drops and most probably for the remainder of her life. They cost $274 for a 5ml bottle which would have lasted about 2 weeks!! Not to mention the cost for the consultation.
I declined the medicine, thinking there must be another alternative, and decided to really observe her and try to find out what made her cough. Sure enough! I realised she started to cough after getting down from the ceiling which we had lined with woolen batts, and when Raisin also got up off my woolen blanket or even when she bought in a field mouse, she would start this coughing! So, I treated Raisin with the Homeopathic remedy made from wool. It took two doses and she never ever had the cough again, saving her a lot of distress and me a lot of money!
A Case of Kennel Cough
My trusty friend Toumba was a very tough dog. He was always a polite eater and chewed his food well before swallowing, so I had no problem in giving him leftover chicken bones (which was something I was always told was a no no for dogs). Toumba always ate these with no problem, until one morning he woke with a distressing, constant cough, as if he had a chicken bone stuck in his throat (which I had given him the night before).
I took him to the vet to get checked and the vet told me that there was no chicken bone stuck in his throat and that he had "Kennel Cough". He told me all he could do is give him the usual drugs used to treat Kennel Cough.
I declined politely and told him I was a Homeopath, so I wanted to try a remedy first. The vet actually looked in my eyes and said "you must be joking!" and laughed at me! "I don't think you will have any luck there!" In my reply, I asked "if I find the right remedy, would he like to have some for your clinic? He just laughed smugly at me and said "no thanks".
After 2 days of treating Toumba with 5 doses over 2 and a half days, his cough had gone completely! I wandered on back to the clinic with my mate in tow and offered for the Vetenarian to have the name of the remedy for use in his clinic. He declined. That was a real shame, not only for him and his veterinary practice, having the chance to work alongside such a wonderful natural and cheap cure for such a terrible canine disease, but for all the dogs that are having pharmaceutical drugs given to them when there is such a wonderfully effective, natural alternative.